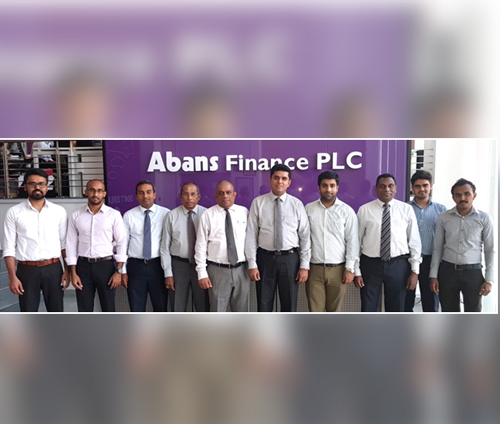 Abans Finance goes Mobile in its Digital Transformation Journey
March 8, 2018
Abans Finance PLC, a member of the Abans Group, recently launched a pioneering and novel mobile device based application for its Marketing Officers and Collection Officers, with the objective of initiating a Lease or a Personal Loan and improving the Collection process in the field. The mobile application named "AFiMobile" will assist Abans Finance Officers to capture customer information and collect rental payments on the go. Abans Finance PLC's principal lines of business include Finance Leasing, Hire Purchase, Mortgage Loans, Personal Loans, and the acceptance of Time and Savings Deposits. Abans Finance, backed by the prestigious Abans Group and Institutional Investors, is today one of the best capitalised Finance Companies in Sri Lanka
AFiMobile was developed in partnership with Newgen Software Technologies Limited, India. Newgen is a leading provider of business process management, enterprise content management, customer communication management and case management solutions. Their extensive, mission-critical solutions have been implemented at world's leading banks, insurance firms, healthcare organizations, governments, BPO's and telecom companies.
Smartphone and tablet based technology has become an integral part of our life, and no sector has been left untouched by the innovation in mobile technology. Abans Finance PLC is leveraging this technology to streamline its workflow, reduce the overall turnaround time for its customers and extend its reach beyond the brick and mortar branches. Traditional loan and lease origination is an arduous process where several layers of documentation and approvals are required. Today, customers are demanding increasing facility and ease in this process. With the implementation of AFiMobile, Abans Finance Officers can now present themselves at a customer's door step and process a Lease or a Personal Loan application within a matter of minutes. This mobile technology is expected to greatly benefit the customer as it simplifies the document and information gathering process, whilst significantly improving the turnaround time.
Undoubtedly, mobile technology is the way forward for rapid development in the financial sector. Abans Finance PLC expects AFiMobile to be one of many additions to its technology platform which will accelerate the lending process, eliminate cumbersome paperwork, improve the collection process and enhance the overall customer experience.
Next Article (Amana Takaful partners with Abans Finance for "Tuk Tuk Full")
Our Branches and Payment Points
We have a network of Branches, Customer Service Centres and Kiosks across the country to offer you maximum convenience. Backed by the 400 plus Abans PLC Outlet network, we also offer our customers the ability to make payments at any of these locations.