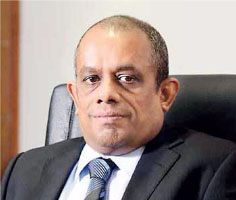 New MD at Abans Finance
September 11, 2017
Abans Finance PLC has announced the appointment of its current CEO Roshan Anthony Nanayakkara as the new Managing Director and CEO with effect from 27 September 2017.
The move follows the resignation of incumbent Kithsiri Wanigasekara from 27 September. He was appointed to the Abans Finance Board as Executive Director in June 2009.
Nanayakkara has been the CEO of Abans Finance PLC since May 2016. His career spans more than 30 years in the banking and finance sector having held several key positions in the fields of credit marketing, financial planning and risk management. He started his career in credit and his senior positions included CEO of Siyapatha Finance PLC, Head of Risk and Financial Planning at Senkadagala Finance PLC and Assistant General Manager at Nations Trust Bank PLC.
Nanayakkara holds a Master of Business Administration degree from the University of Western Sydney, Australia, Executive Diploma in Business Administration from the University of Colombo and a Diploma in Credit Management from the Institute of Bankers Sri Lanka.
With the announced change, the Board of Director of Abans Finance PLC comprises R. Pestonjee (Chairman), Roshan Nanayakkara (Managing Director) A.S. Ratnayake, M.P. Parekh, V. K. Choksy and C.H.A.W. Wickramasuriya (alternate to Parekh).
Next Article (Abans Finance goes Mobile in its Digital Transformation Journey)
Our Branches and Payment Points
We have a network of Branches, Customer Service Centres and Kiosks across the country to offer you maximum convenience. Backed by the 400 plus Abans PLC Outlet network, we also offer our customers the ability to make payments at any of these locations.