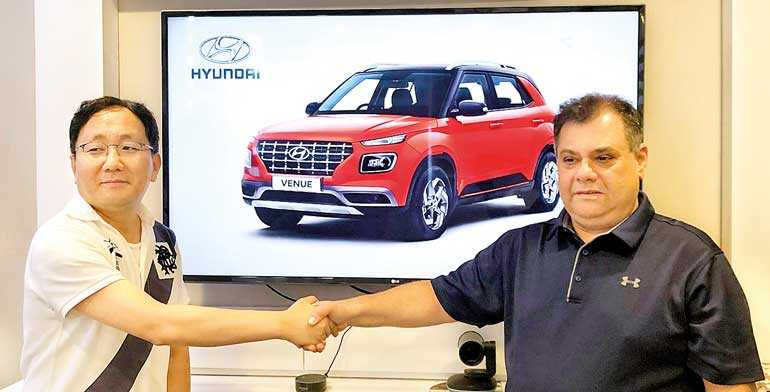 Hyundai Motor appoints Abans Auto as authorised distributor for Sri Lanka
September 16, 2019
Hyundai Motor Company has announced Abans Auto as the authorised distributor for Sri Lanka.
As the authorised distributor, Abans Auto will market and service the total model range of Hyundai Vehicles in Sri Lanka. The landmark agreement embodies Abans Auto's significant brand presence and influence in the automotive industry as well as Hyundai Motor's aim to expand further into this emerging market.
"We are deeply delighted to be partnering with Hyundai Motor Company, a world-class and world-renowned automotive brand. Through this milestone partnership, we hope to provide Sri Lankan consumers the opportunity to experience the signature design, lifestyle and experience that Hyundai vehicles offer, and revolutionise Sri Lanka's present automotive market with the vehicles of the future," said Abans Group Managing Director Behman (Tito) Pestonjee.
Under this partnership, Abans Auto will be distributing the entire line-up of Hyundai vehicles, especially recent new exciting models including Venue, Tuscon, Ioniq EV and Kona EV. The predominant focus will be on Hyundai Venue, a vehicle that packs both practicality and personality.
Venue offers the versatility of a stable and comfortable driving experience, while providing the best fuel efficiency of its class. Having debuted at the New York International Auto Show in April, the all-new 2020 Venue is the latest addition to the Hyundai Motor's entry SUV segment.
Other upcoming events include the launch of the Hyundai Digital Centre, which will soon be opened at Colombo City Centre. Being the first of its kind in Sri Lanka, this centre will be an innovative automotive retail concept that will use immersive 3D technology to further enhance the Hyundai customer experience.
Our Branches and Payment Points
We have a network of Branches, Customer Service Centres and Kiosks across the country to offer you maximum convenience. Backed by the 400 plus Abans PLC Outlet network, we also offer our customers the ability to make payments at any of these locations.